Incorporated in May 1988, AEPL was formerly known as Unit No. 1 of ALLIED ELECT. ENGG. CO., which was established in 1954. The company is located in the throbbing industrial estate in Vadodara city of Gujarat state with an area covering more than 22000 sq. ft.
AEPL, was initially started as a company which included various of Maintenance and Service such as repairs, troubleshooting, testing of transformers and other industrial electrical machineries. Over the years the company gained ample experience about all types of transformers and thereby decided to take a step forward in the transformer field my accomplishing manufacturing of transformers. Therefore since past two years we have also indulged in the manufacturing of transformers and have been successful to satisfy our clients in the manufacturing area too.
AEPL has been certified for ISO 9001:2008 company for its rewind, rebuilt, repair, redesign of transformers. The company has a well-organized team of technically skilled workers and qualified and experienced engineers. Serving our clients since past two decade and a half the company has gathered enormous goodwill in the country's electrical industries' circle.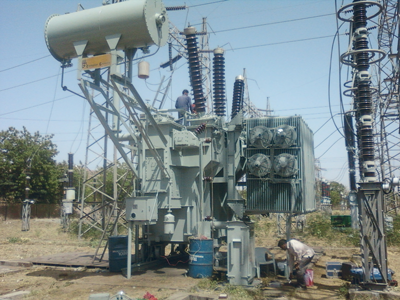 WHY ARCHIT ELECTRICALS ???
We provide on-sight servicing/overhauling of transformers which includes attending leakages, painting replacement of gaskets , replacing of GOR,MOG. Our onsite services are available on both a scheduled and emergency basis which includes all routine tests such as magnetic balance, turns ratio test, winding resistance , etc. Transformer life assessment tests such as tan-delta , SFRA , etc are also carried out by us.
In dept. analysis from the reason of failure to prevention of future failure are being done at our workshop by our specialized employees . From past 50 years we have been trying to simplify the electrical mythology and practices for better future through our expertise.